The 2021 Subaru Love Promise Customer and Community Commitment Award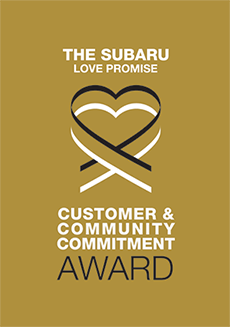 We've been nationally recognized for our dedication to our customers, our community, and the Subaru Love Promise.
We're honored to receive the 2021 Subaru Love Promise Customer and Community Commitment Award. This award nationally recognizes elite Subaru retailers who provide an exceptional customer experience at every interaction with Subaru. These retailers have also demonstrated an outstanding commitment to supporting passions and causes in their local communities in important areas such as the environment, community, health, education, and pets.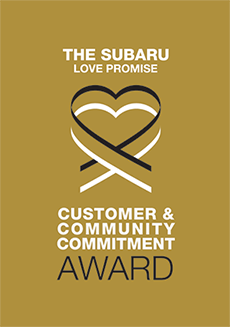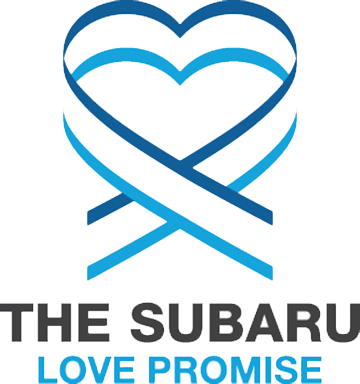 What is the Subaru Love Promise?
Subaru and our retailers believe in making the world a better place and the Subaru Love Promise is our vision of respecting all people. This is our commitment to show love and respect to our customers and to work to make a positive impact in the world.
How is Hodges Subaru dedicated locally to the Love Promise?
Our Love Promise is to continue to be an example within our community. Partnerships with local charities and events to help bring awareness to our store and it's commitment to our fellow neighbors.
Love Promise Stories from Hodges Subaru
Subaru and Hodges Subaru believe in making a positive impact on the communities in which we live and work. We uphold that belief through our Love Promise Community Commitment. Every month, we select inspiring stories from customers and partners from around our area who strive to support our collective commitment and feature them here
Jumpstart to our school library! - Jon R
Thank you so much for the support of our classroom library initiative here at Weston Preparatory Academy. Through your generous donation we were able to replace used and torn books with new ones, and also purchase many new titles that our students identify with. Many fun books such as graphic novels and manga were also added to the collection. So many books were purchased in fact that the library size nearly doubled – we even had to make and add some new shelves! When students return full time in the fall they will have a much larger selection of books to utilize during DEAR, which is our Drop Everything And Read program. This would not have been possible without the kind support and generosity of Hodges Subaru through its Subaru Love Promise and Community Commitment program. From all of us here at Weston – thank you thank you thank you!
---
Blankets to the rescue! - Amber R
Late in November a phone call from Hodges Subaru came in- they were planning on a donation of blankets to us here at Lighthouse to help with the upcoming chilly winter months! Given the current state of the Coronavirus pandemic we had a some logistical hoops to jump through but we were able to get it done just in time for the holidays!
---
Love Promise Story - Mending a Broken Heart - Andrea S
King Tut was found as a stray. Luckily, he was microchipped, which provided us with his owner's contact information. We couldn't wait to call with the exciting news. Tut was such a sweet and gorgeous dog, someone out there had to be missing him. Upon connecting with his owner, we were told that he had no idea what we were talking about, that he didn't have a dog. Our hearts broke for King Tut who was clearly missing his family. This is where Phil enters the picture. Phil adopted a dog named Leo from our Haven in September 2018. Leo was a staff and volunteer favorite – he had been overlooked for a while (for no good reason). For Phil and Leo, it was love at first sight. Unfortunately, just before celebrating their first year together, Leo was diagnosed with cancer. Phil shared the heartbreaking news with us and kept in touch to let us know how Leo was doing. Sadly, Leo passed away in late August of this year. Phil's heart was broken and we were devastated as well. Phil and Leo deserved more time together. Phil reached out to us again in October. Still grieving the loss of Leo, but ready to rescue another, we knew just the dog for Phil… King Tut! You could see the immediate connection between the two and that was it – Phil brought Tut home with him that day! Phil and King Tut (now Rusty) are inseparable! Rusty is an incredible dog that has helped mend Phil's broken heart. We love repeat adopters and are so grateful Phil and Rusty found one another!
---
We can't say thank you enough! - Taylor G
Thank you for your heartfelt donation... these items are genuinely appreciated and needed throughout our programming. Thanks to you, a girl or young woman who faces obstacles in violence, teen pregnancy, and exploitation, now has the resources and opportunities necessary to be safe, to grow strong and to make positive choices in her life. Your support not only allows Alternatives For Girls to respond to her needs through shelter, crisis intervention, academic support, and life skills, but it also means she can start planning her bright future today! We are so profoundly moved by your heartfelt generosity to invest in the lives of girls and young women, and we know you care about their success as much as we do. Thank you for your belief in them and investing in their growth. It truly makes a difference in the future of our girls and young women's success.
---
Five STARS for Five Years! - TJ M
2019 was the 5th year in a row that Hodges Subaru chose I HEART DOGS RESCUE AND ANIMAL HAVEN for their annual Share the love event held at the store. Santa and his helpers arrived to take pictures with all the pups and kids last December making it an amazing festive and LOVE filled event for all that attended. Unfortunately this year COVID has required us to make some major alterations but it certainly has not and will not stop the ultimate goal of helping find some permanent homes for these awesome pets!!! In 2019 over $27,000 was donated in an effort to help keep the wheels in motion over at the shelter and we have no plans on stopping there!
---
Lighthouse Fundraiser - Nichole G
On Sunday, September 22nd we hosted a Cars & Coffee fundraiser for Lighthouse on behalf of the Subaru Loves to Care initiative. Lighthouse provides direct services (food, shelter, rental/utility and other financial assistance, clothing, crisis referrals) and stability and housing programs that develop and support self-sufficiency. Lighthouse's mission is to solve the problems of poverty and homelessness by providing many services to those in need. For our event, we had several people/business donate prizes for a raffle we held. We also donated Subaru Gear for the raffle as well. Each raffle ticket was $5.00 which 100% of the proceeds went to Lighthouse. We raised $866.00 during our 3 hour event and Hodges Subaru matched the donated in its entirety which equals a total of $1734.00 donated!
---
Hodges Subaru brings light to cancer patients - Jamie R
On Tuesday, July 3rd 2019, the Michigan Chapter of the Leukemia & Lymphoma Society and Hodges Subaru had the pleasure of delivering 80 blankets to the Rose Cancer Center in Beaumont Hospital Royal Oak as part of the Subaru Loves To Care program. These comforting gifts were accompanied by personalized messages of hope written by the customers and staff of Hodges Subaru. This incredible act of generosity was warmly received by the Rose Center staff who were thrilled to distribute these comforting gifts to their patients. TJ Mendolia represented Hodges Subaru, and stated "I had a friend who passed from Leukemia, and have always wanted to do more to support LLS – I'm really glad our company is part of this program and supports this awesome cause." He and the Hodges staff plan to explore forming a team for this year's Detroit Light The Night event. LLS is proud to partner with Subaru to spread hope, love and warmth to those fighting cancer, across the country and right here in Royal Oak & the Metro Detroit community.
---
Why I became a Subaru customer - Kate B
I've always bought American cars. I've only had Saturns, actually. When GM killed the brand I loved in 2008, I knew I'd eventually need to branch out and assumed I'd buy a Ford. I'm from Detroit and work in the arts - Ford and the Big 3 have supported the work of Detroit's arts and culture organizations for decades. In the last 10 years, though, that support has eroded. Combine that with the terrible blind spots in Ford's cars, and I wasn't sure where to look for a new car. Hodges Subaru of Ferndale, MI arrived with an answer just when I needed it. After supporting FernCare Free Medical Clinic, which I helped to found, for nearly a decade, Hodge's stepped up big time and became the Presenting Sponsor of our annual dinner last year. Not only did I have friends and family that loved their Subaru's, but Hodges made it clear to me that they love our community and support the same causes that I do. Thanks, Hodges - you've got a new loyal customer!
---
Hodges Subaru Delivers Loves to Care Blankets - Jo B
Hodges Subaru in Ferndale and LLS joined forces to give blankets out to Beaumont's Rose Cancer Center in Royal Oak, MI. TJ Mendiola from Hodges Subaru, a long time Light the Night participant and supporter of LLS was thrilled to be a part of the Subaru Loves to Care partnership. The staff of Rose Cancer Center were ecstatic to receive Subaru's generous gift of 70 blankets. They have seen an influx in new patients receiving treatment and were happy to be able to provide a small gift to warm patient's hearts. Cheryl Bartley, along with additional staff, were in attendance and started distributing them to patients as soon as we arrived. Thanks to Beaumont's Rose Cancer Center, Hodges Subaru and LLS, for joining forces to support those fighting cancer in our community!
---
Subaru Loves to Care Blanket Delivery - Alicia J
On July 6, 2017 Hodges Subaru of Ferndale and the Leukemia & Lymphoma Society delivered blankets to the Barbara Ann Karmanos Cancer Institute in Detroit, Michigan.
---
Subaru and NWF Love the Earth! - Julie L
We have been taking part in a Global Education Project through the National Wildlife Federation Program. For this project we have been teamed up with a school in Taiwan who is also working on the Biodiversity Pathway.In order to make our garden become a reality, the students have been researching the importance of pollinators, native birds and native plants. We planned which types of plants would work best in the areas we had selected for our gardens and worked to get the ground ready. The students had fundraisers and wrote letters to local businesses in order to gain further support for our project. We were able to raise over $1300.We wanted to incorporate art into our garden so our art teacher assisted us by having our students create garden stepping stones.The students worked diligently all year on this project and we were very excited that their hard work was recognized when Paula Tutman did a story on Channel 4 news about our project. The Livonia Observer came out and did an article for the local newspaper as well.
---
Yes, We'll Help You! - Mary D
It was a nice Saturday morning, weather wise, and I was running my usual Saturday errands. Eventually, I tried to put some items in the trunk area of my Outback. For some reason the hatch area would not open. Concerned, I thought, "I'll just go to the dealership". When I arrived at Hodges the bay door was open, so I drove right in and started explaining that the hatch would not open. Two men helped me and after a while, they got the hatch open. Took down my info. and told me to return on Monday. That's when I learned the dealerships was CLOSED on Saturday and one of the men was the Manager. They also called me on Monday to follow up with me.
---